LIFESTYLE BY LINE-X PRODUCT LINE
---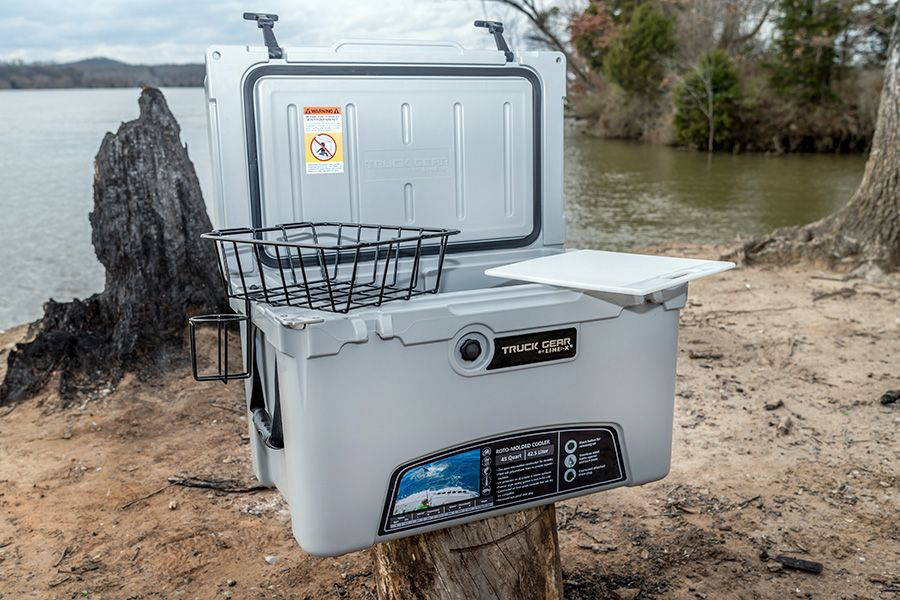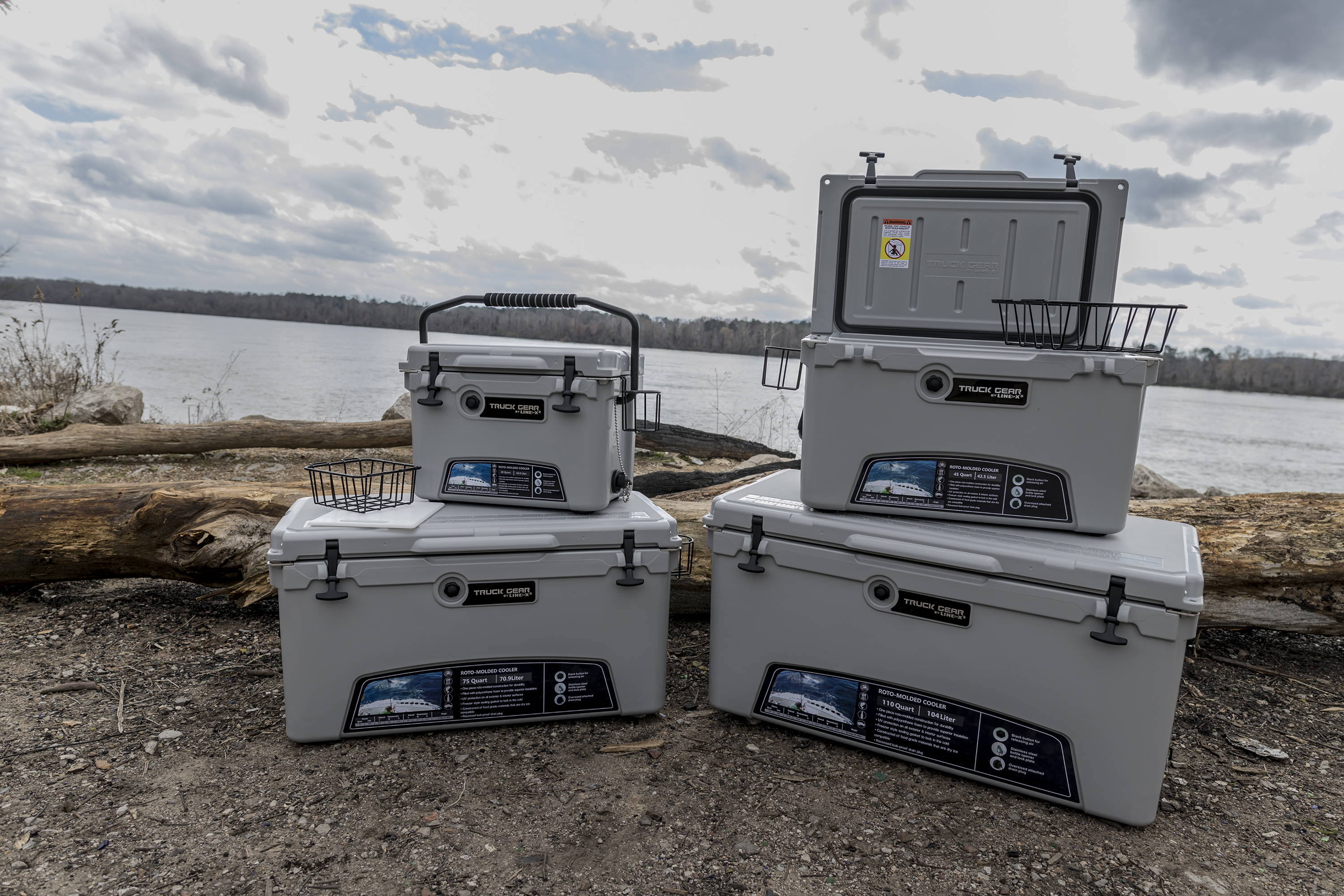 The Truck Gear by LINE-X Expedition Cooler is made to last a lifetime. Made using rotationally molded plastic, it can hold up to serious abuse while keeping ice frozen and your drinks cold. Extra dense insulation keeps cold air inside and warm air out which makes this cooler a great addition to your tailgate, fishing trip, campsite, hunting excursion or any outdoor activity. Throw it onto your LINE-X bedliner and hit the road!
Available in 20qt, 45qt, 75qt, and 110qt sizes.
THICK WALLED, ROTO-MOLDED DESIGN FOR EXTREME DURABILITY
PRESSURE RELIEF VALVE FOR EASIER OPENING
LARGE DRAIN INCLUDES CAP RETENTION CHAIN, CAN BE CONNECTED TO A STANDARD GARDEN HOSE
THICK INSULATION KEEPS ICE LONGER
DUAL LOCKING PLATES WITH BUILT-IN BOTTLE OPENERS
HEAVY DUTY, EASY CARRY HANDLES (45QT, 75QT AND 110QT VERSIONS)
STAINLESS STEEL HANDLE WITH FOAM GRIP (20QT VERSION ONLY)
COMMODITY SHELF, CHOPPING BOARD, CUP HOLDER INCLUDED
ANTI-SKID FEET
RULER BUILT INTO LID
5-YEAR WARRANTY
These aren't your discount chain, flimsy, light-duty tie-down straps. These are the high quality, heavy-duty ratcheting tie-downs that you would only expect from Truck Gear by LINE-X. With a whopping 3,000-pound breaking strength, you can trust Truck Gear by LINE-X Ratcheting Tie-Downs to secure and protect whatever your truck is hauling.*
*Do not exceed max load limitations on the product
KIT INCLUDES

CANVAS CARRY/STORAGE BAG INCLUDES FOUR TIE DOWNS IN EVERY KIT
(4) 1" X 10' HEAVY DUTY RATCHETING TIE DOWN STRAPS WITH RUBBER COATED S-HOOKS
(4) VELCRO STORAGE LOOPS

HEAVY DUTY, 3,000 POUND BREAKING STRENGTH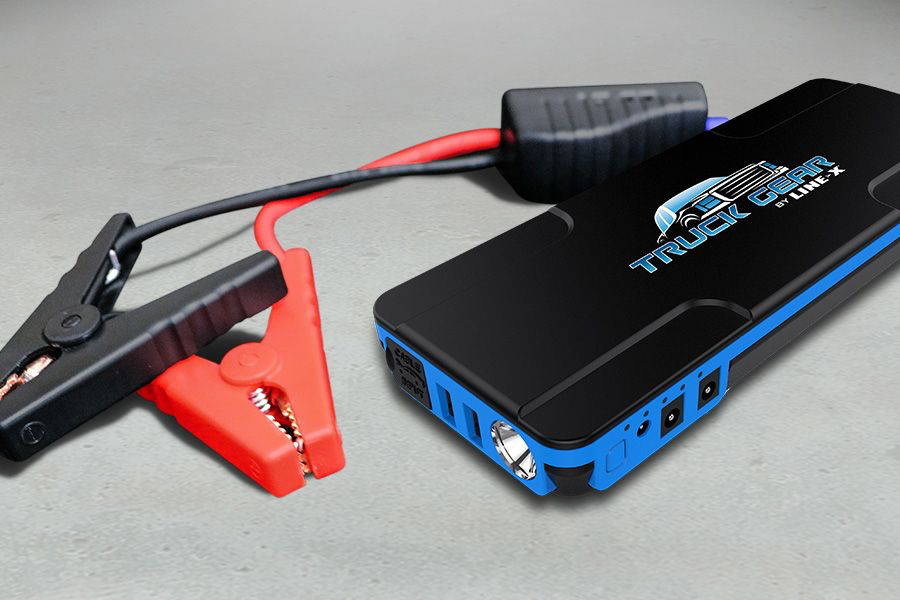 JUMP STARTER AND POWER BANK
Truck Gear by LINE-X® Jump Starter and Power Bank is a compact, portable battery charger that delivers one of the highest cranking amp outputs on the market - up to 600 max amps! Can start large engines, even diesel, and has dual USB ports to charge all of your devices. Smaller, faster, cleaner, and easier than a set of jumper cables with no need for a second vehicle. Includes 12V DC and 110V AC charging cables, iPhone and Android charging cables, built-in 5W LED flashlight with strobing/hazard setting, plus a fail-safe system that will not arc if polarity is reversed. Comes with a convenient carrying case to store all accessories and cables in one place.
MORE POWER FOR YOUR MONEY: 18,000MAH LITHIUM POLYMER BATTERY PROVIDES 300 CRANKING AMPS/600 PEAK CRANKING AMPS OF STARTING POWER
POWERFUL ENOUGH TO START GAS AND DIESEL ENGINES
BUILT-IN FAILSAFE PREVENTS ARCING WHEN POLARITY IS CROSSED
BUILT-IN LED FLASHLIGHT
TWO USB CHARGING PORTS TO CHARGE ALL OF YOUR DEVICES, INCLUDES CHARGING CABLES FOR IPHONE AND ANDROID DEVICES
INCLUDES 120V AC CHARGING CABLE AND 12V DC CHARGING CABLE
CONVENIENT CARRYING CASE PACKS EVERYTHING UP INTO A SMALL, EASILY STORED KIT
---