---
PROTECTION YOU CAN COUNT ON.
LINE-X® Spray-On Bedliners provide unmatched protection for your vehicle with the toughest, boldest, and most durable bedliners on the market. Expertly sprayed by highly trained technicians, you can rest assured it's been done right. We're so confident in LINE-X quality that we back our bedliners with a lifetime warranty, giving you complete peace of mind. LINE-X bedliners are designed to meet the needs of every truck owner, whether you're a farmer, hunter, contractor, or weekend warrior.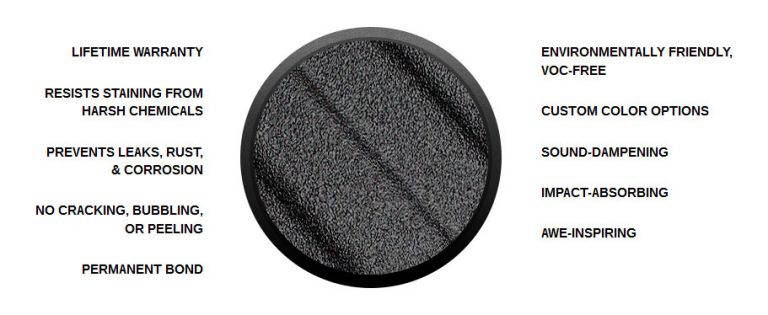 Environmentally Friendly

BACKED BY A NATIONWIDE LIFETIME WARRANTY
LINE-X guarantees the highest quality, professional installation. A LINE-X Spray-On Bedliner is guaranteed not to crack, bubble or flake for as long as you own your truck. Plus, even if you damage your truck and it's not covered by the warranty, LINE-X can still be seamlessly repaired at your nearest location.
TOUGH PROTECTION AT NO COST TO THE ENVIRONMENT
A standard LINE-X Spray-On Bedliner is environmentally friendly. Its solvent-free material contains no harmful VOCs or CFCs.
PROTECTION FROM EVERY ANGLE
LINE-X permanently bonds to your truck bed, with a factory-like finish that follows every angle and curve to preserve precious cargo space while creating a watertight seal. No air gaps or drill holes to give water a place to hide – and rust a chance to take hold.
SOUND-DAMPENING, IMPACT ABSORBING, AWE-INSPIRING
As soon as it's on, you'll notice less road noise, and a rattle-free, quiet ride when compared to an unprotected or drop-in liner. And the thick, textured impact-absorbing surface of LINE-X Spray-On Bedliners also protects cargo from shifting.
ADDS TO YOUR TRUCK'S VALUE
Unlike many drop-in plastic bedliners, every professionally applied LINE-X bedliner contains tough polymers engineered to withstand years of heavy-duty use in the searing heat or arctic cold. What's more, according to the latest NADA Official Used Car Appraisal Guide, a LINE-X Spray-On Bedliner adds to your truck's daily value – as well as its resale value at trade-in time.
---
LINE-X is the recognized leader in this industry :
Only company in the industry with a dedicated full-time Research & Development staff and a 15,000 square foot research facility.
Recognized market leader in the spray-on truck bedliner industry consistently since 2005 (Source Frost & Sullivan Study 2006 and 2008).
First successful high temp/high pressure elastomeric bedliner.
First nationwide spray-on truck bedliner and protective coating franchise. Recognized in INC 500 and Entrepreneur Magazines.
Also recognized in most major truck publications including Motor Trend, Truckin', Sport Truck, Street Trucks, Peterson's 4-Wheel and Offroad and many more.
First commercially available pure polyurea.
First to develop a bomb blast coating. This coating has been tested by The Army Corps of Engineers and the Air Force Research Laboratory. Product recognized by Popular Mechanics, Nationwide TV News Media, and Sixty Minutes II.
First to apply a non-skid pure polyurea onboard a U.S. Navy Submarine.
First spray-on product to meet MSHA requirements for acceptance of flame-resistance solid products taken into mines.
Only spray-on product in its category to be accepted by MSHA as a non-strength enhancing mine sealant.